Section 504 is a part of the civil rights Rehabilitation Act of 1973 that prohibits discrimination against individuals with disabilities. Section 504 ensures that students have equal access to education. The child may receive accommodations and modification. A 504 Plan is different from an Individual Education Program (IEP) and is written and managed by the school administration rather than by a special education teacher.
A person who qualifies for a 504 Plan has a mental or physical impairment that substantially limits one or more of that person's major life activities. For an impairment to be substantially limiting, it must impede student access to a "large or considerable degree." This includes functions such as caring for oneself, performing manual tasks, walking, seeing, hearing, speaking, breathing, learning, and working.
At school, "learning" is frequently identified as the area of difficulty. Referrals to consider eligibility for Section 504 accommodations should be made to the referred student's school principal.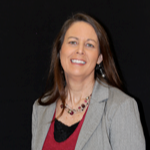 Administrative Assistant
208-359-3315 Ext 3620
hanoskyk@msd321.com