One person can make a difference in the life of someone else.
Something small - a smile, a hello, a thank you, or a random act of kindness can brighten the day for others.
YOU can Start the Chain Reaction...Start with HELLO!
Say 'Hello' to Someone New
It is such a simple gesture, but a kind greeting can genuinely mean the world to someone else. Saying 'hello' to someone new can be a little intimidating, so try to have fun with it - say 'hello' in another language, a silly accent, or pair it with a compliment. You never know the conversation, the connection, or the relationship it could lead to.
Get to Know Someone & Let Them Get to Know You
Use these templates below to MEET SOMEONE NEW or LEARN SOMETHING NEW about someone you already know! And then share a little about yourself with them. Nervous?! Use the ice breaker questions to help you start the conversation!
Conversation Starters for Kids
Color Yourself Kind
Download and print your favorite kindness coloring pages. Do it as a family, office, class, school, or just by yourself. Gift your work of art to someone who might need some cheering up.
Think of Thank Yous
Think of someone who has made a difference in your life. It can be big or small. Take a few moments to say "thank you" and let them know they're appreciated. A simple thank you can make someone's day! Want to make gratitude a daily practice? Check out these activities that will help promote an attitude of gratitude.
Random Acts of Kindness
Little random acts of kindness may not seem like much, but they really do add up and make the world feel like a nicer, safer place. Often times they start a chain reaction that spreads kindness far beyond the person you originally helped. Serving others with kindness makes you feel good as well as the people you serve! Below are some ideas to get you started.
103 Random Acts Of Kindness Ideas
Down with Devices
Put down your device and spend time getting to know the people around you. Not sure how to get the conversation going? Here are some suggestions to help you get talking.
Conversation Starters for Kids
Kindness is a Chain Reaction that Starts with YOU!

Are you interested in helping us promote the spreading of kindness and positivity during Start with Hello Week, October 30 - November 3, 2023?
Reach out to us and we will bring you swag, from the list below, for you to display and distribute.
Call 208.359.1256 X3436 or email clarkv@msd321.com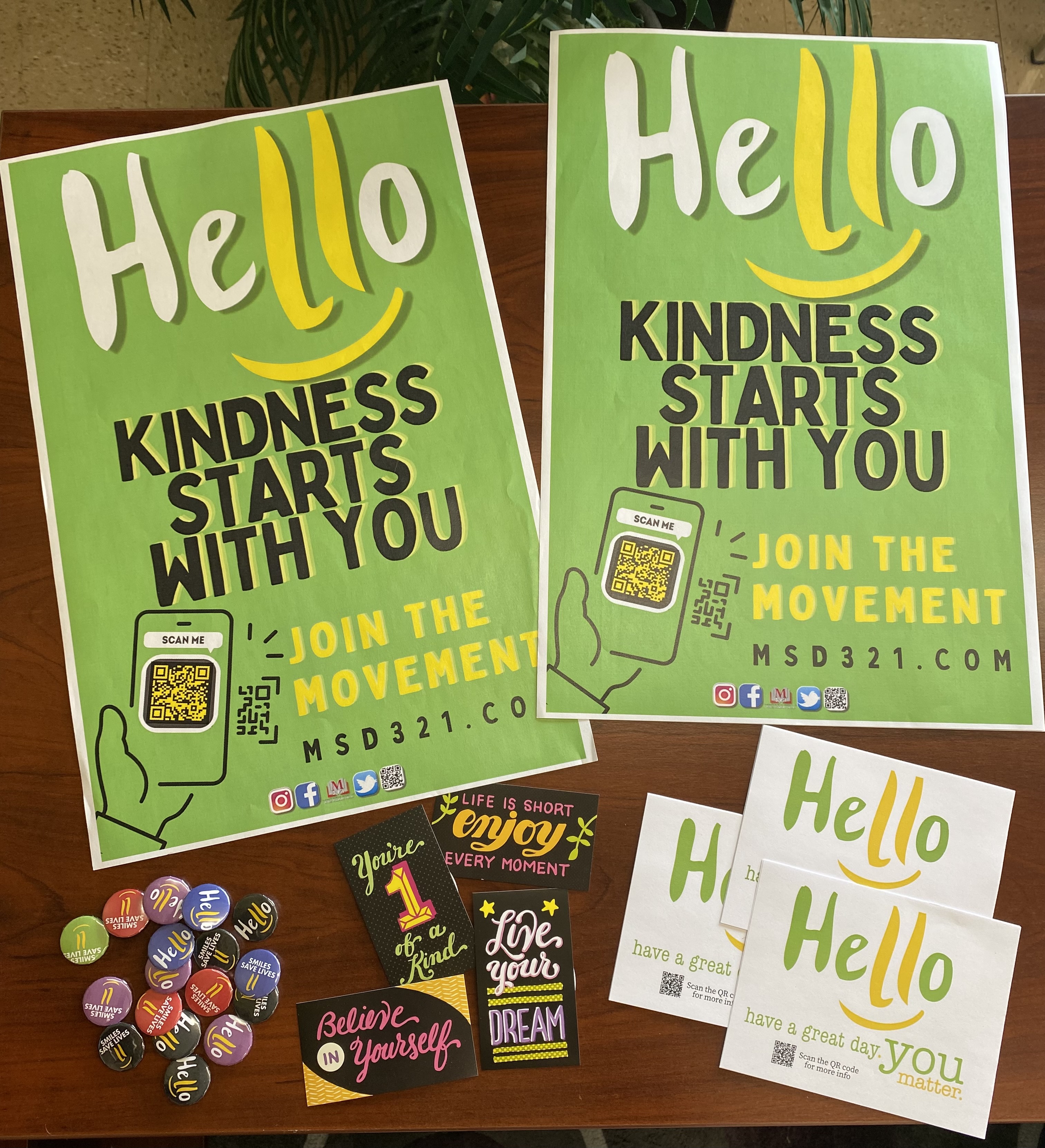 * Business Marquee
Have a Marquee or LetterBoard for your Business? You can help by posting "Start with Hello" or "Hello Rexburg" or we can email a digital 'Hello' logo to display.
* Poster for window or bulletin board - 11x17
Display around your business/office both for employees AND for customers!
* 1 inch pins for Employee Shirts of Lanyards
Proudly display to customers that YOU are spreading kindness and positivity by having all of your employees wear a 1 inch button on their lanyards or work uniforms. There are a variety of styles and colors.
*Positive Message Pass Along Cards
Send each guest/customer with a positive pass along card! You let us know that you are willing to pass them out, and we will bring you a stack!
*Flyer (quarter page)
Encourage your customers/clients to spread kindness and positivity by sending them home with a simple quarter page flyer. Put these in bags, have them in a stack at the register or hand them to people as they check out and encourage the chain reaction to grow.