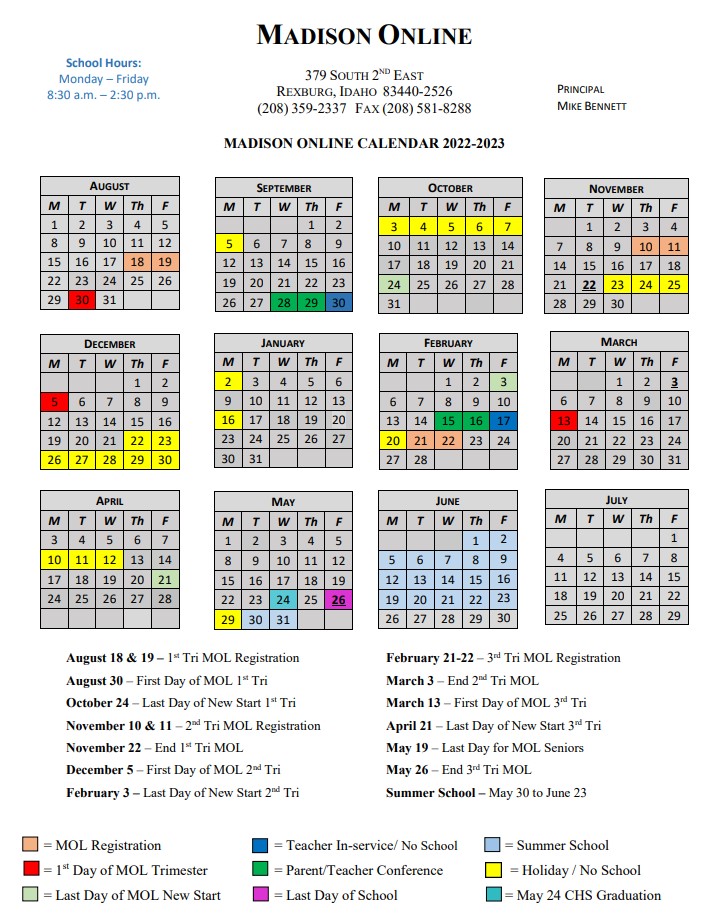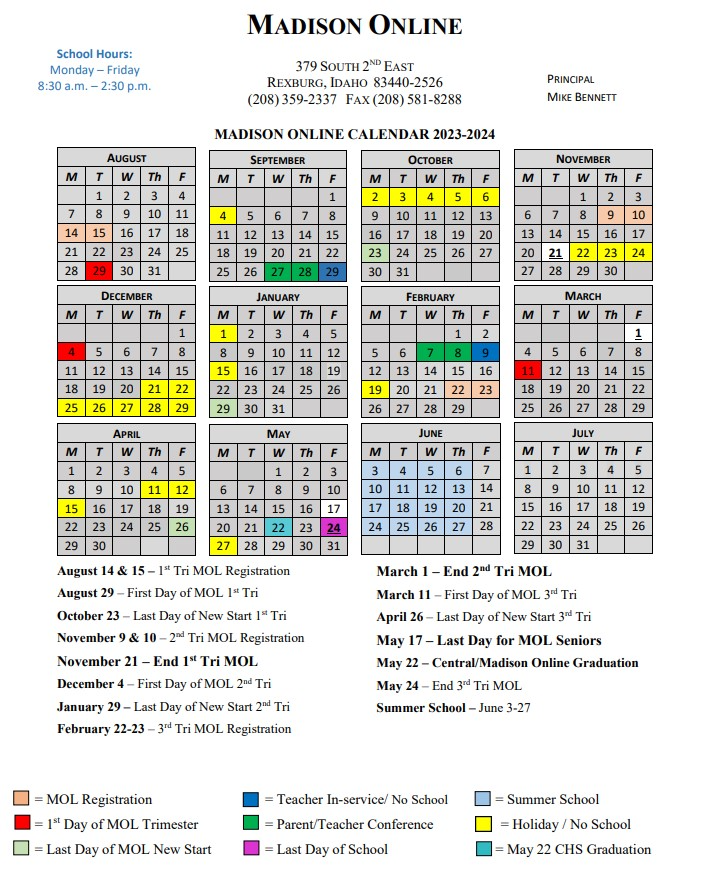 Welcome to Madison Online.
You can contact us at Central Alternative High School, 379 S. 2nd E, and phone 208-359-2337
Due to the fluidity of changing plans, we only register online classes one trimester at a time, instead of a whole year at a time.
3rd Trimester Registration will occur at Central High School, Tuesday, February 21 and Wednesday, February 22 , 8:00 am - 2:00 pm each day. New courses can be added up until week six of the trimester. Please see the calendar above for those late start dates.
If students are doing a blended option, we encourage you to go to the high school or junior high school counselors first to work out your schedule for live classes, and they will have the Google Form to sign up for online classes. For high school students, if you want to sign up for a study hall class as a live class with the intention of doing Madison Online courses during that study hall, make sure that the study hall class/teacher you choose allows online work.
Click on any of these links:
2022-23 Madison Online General Information April
2022-23 Madison Online Courses Offered
2022-23 Madison Online Course Offerings and Descriptions
Madison Online Graduation Requirements
Idaho High School Graduation Minimum Requirements
Please be aware that NO ONLINE COURSE will count towards NCAA eligibility.
We cannot provide online courses for any student on an IEP who lives out of the Madison School District boundaries That is a district policy.
New and cool information! The district has a powerpoint describing where to find the parent access code for Schoology in PowerSchool: They should go to the district website and then click on the PowerSchool button and choose parents. https://www.msd321.com/o/msd321/page/schoology-parents
Then GUIDES is a button that links to a powerpoint that describes where to find the parent access code on PowerSchool.